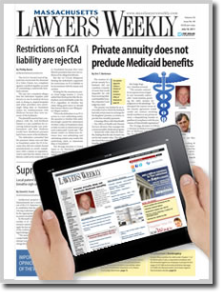 I was recently featured in the Massachusetts Lawyers Weekly column Uncommon Law, in an article entitled "Counselor at Law," about my transition out of the law and the journey to becoming a social worker and therapist working with lawyers and professionals.  If you haven't seen the article, you can read it here.
And here's the letter I wrote in response to the great amount of positive feedback I received in the weeks since the article was published.
Dear Lawyers Weekly:
I am writing to let you know about the incredible response I've received to Brandon Gee's Uncommon Law article "Counselor at Law," in the February 24, 2014 issue.  Since the article ran, I've received an outpouring of support from friends and colleagues whom I've not seen in years, to people from all over the country, and as far away as Australia, Belarus, Italy and New Guinea!  I think Lawyers Weekly's thoughtful treatment has touched a nerve out there in the legal community, which is why I wanted to let everyone know, and say, Thank You.
My story is not uncommon amongst attorneys, yet it only my story.  Every one has one and everyone's is unique.  It is critical to understand that, though the pressures lawyers face have commonalities, each person handles those pressures in very different ways.  We all create adaptive mechanisms to deal with stress, anxiety and conflict, and for many in the profession, they are sufficient to make it through each day unscathed.
For others, as for myself, defense mechanisms may not be enough.  As the outreach I've recently received makes clear, there are many lawyers out there who are suffering in silence.  They are too busy, or proud, or downright afraid to ask for help.  It has long been a goal of mine to de-stigmatize mental health care for lawyers, and so to that end, I say to the profession: help is out there – you only need to ask for it.
Sincerely,
Andrew Kang, JD, LICSW